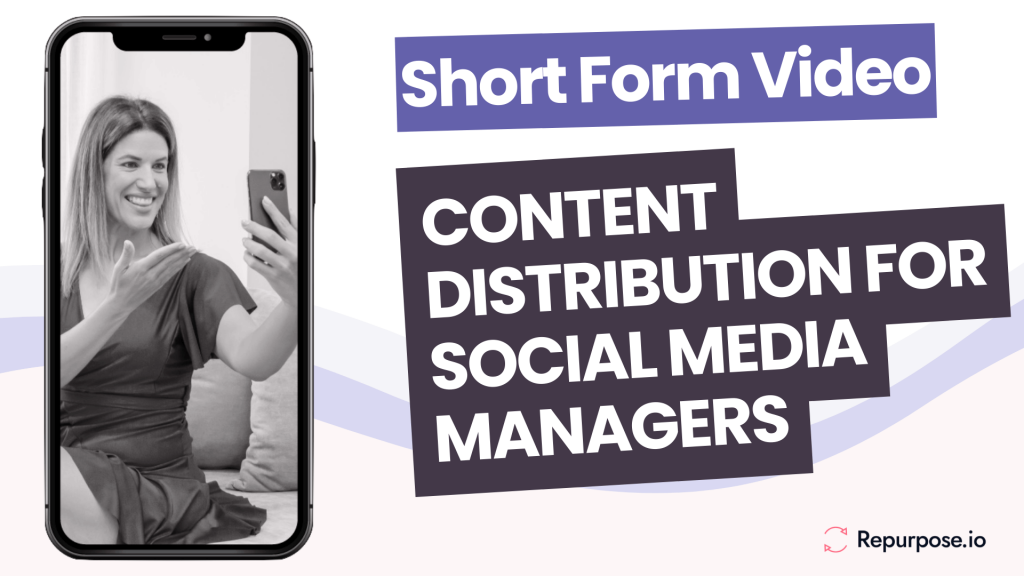 Guest post by Kate Buck Jr. – CEO of Social Media Pro and Repurpose.io power user
If you're using social media on any network, you know that short form video content is all the rage. Not only is it trending, but strategically it is an incredibly important format for your business.
One thing that I find interesting is that you can discover lots of people talking about tactics and strategies for getting more engagement and growing your following.
But most of those conversations are geared towards someone who is managing an account for one business or their own personal account.
There is one vital group of people being left out of the strategies for short form video content…
I'm talking about the freelance Social Media Managers or agency owners who run accounts for multiple clients and businesses.
Recording, producing, and distributing short form video content can be time consuming when you're managing just one account…
Now imagine running multiple accounts for different clients. We need our own repeatable systems and processes!
So how does a Social Media Manager maximize their time and streamline distribution when multiple client accounts and strategies are on the line?
That's what I'm here to break down with you today.
There's no need to struggle in your short form video content creation and distribution. Follow these steps and you will check all the boxes to make your job easier and your clients happy!

Preparing Your Client to Record
You want to set your client up for success out of the gate! This may require a little coaching.
To get the best quality short form video content and ease your workload down the line, make sure your client is recording in proper lighting.
Find out what kind of mic they are using before they record. If they're using earbuds or headphones, do a test with them to ensure they produce quality sound. If it comes through muffled, you might suggest they record without headphones or invest in a proper mic set up.
Do they know what angles to place their camera? Provide them with relevant examples of other content creators so they can wrap their mind around how to set up the shot– leaving ample space for captions.
As a Social Media Manager you can craft a recommendations list to share with your clients with a range of equipment options at the price points that fit their budget.
You can also send them diagrams for lighting and camera angles or work with them via Zoom to set the perfectly.
Scripting for Short Form Video Content is Key
When you're planning for your client's short form video content, scripting is one of the most crucial steps. Your client may want to "wing it," but at the very minimum ensure they have bullet points to speak from in order to get a quality piece of content.
You have 60 seconds or less to connect with your viewer, grab their attention so they're compelled to engage with your content, and hopefully accept the invitation you're extending in your call-to-action.
In order to engage your audience effectively over and over again across multiple videos, you need a scripting process.
Crafting the Perfect Hook
There is a piece in every good video marketing content called "the hook". This is the key to getting engagement on your content and training your audience to come back for more.
Your tone of voice, your text, your insight, and the concept or idea that you're imparting all play a role in your hook and you want that hook front and center. You have just a few seconds to grab attention and help the viewer decide if they're going to continue watching.
Remember a hook is not a tagline or your unique selling proposition. A perfect hook is attached to an authentic and compelling story that builds trust, authority, and credibility AND provides value.
To name a couple famous examples: Tim Ferriss's book title The 4-Hour Workweek is a perfect hook. You're instantly intrigued, it subverts expectations, your curious if it's possible for you. Netflix's original "No late fees" hook helped them corner an entire market!
Another piece of the process for short form video content production is split testing your content so you can narrow in on what works best for your client's audience and adjust your scripting process as you learn.
Develop Working Processes with Your Client
Now that you're on the fast track for short form video content creation, you'll want to align on a handoff process with your client. In other words, once your client records, make sure they know how to hand the videos over to you for the next step in the production process.
These files are often large and if your client is batching their content, there will be many files.
Will you use Google Drive or Dropbox for file sharing? Will you have them upload their videos to your project management system or do they prefer to email you a link to their large format files using a service such as WeTransfer?
Getting the Videos Edited
When you first start offering short form content distribution to your client, you might handle the editing yourself— either with a video editing tool or natively inside the social media platform itself.
But when you get to the point where managing this process for multiple clients becomes too time consuming, you might consider partnering with a media agency who specializes in video editing.
A media agency can do jump cut editing, add captions with on-brand colors and fonts and even embed music in your video, if needed. Using a media agency can help you scale your short form video content services.
Just know that working with an agency isn't completely hands-off. You still need to work with them to solidify your client's styles and branding and to make sure the completed edits are how you envisioned them.
Charging Appropriately for Short Form Video Content
Now that you've integrated short form video content into your Social Media Manager services, you may be wondering if it should be included in the original social media management package you sold your client.
The answer is no.
When you're looking at how to price, package, and sell the creation and distribution of short form video content for clients, be sure to include the extra time it takes for you to edit and publish outside of your standard Social Media Management services.
If you do decide to use a media agency for video production, the best practice is to pass the cost of their services along to the client.
Streamline Distribution
One of the challenges of sharing one piece of content in multiple places like Instagram Reels, YouTube Shorts, and TikTok is that once it's published you're stuck with the watermark on your video.
Historically, the "other" social media network algorithms don't favor content with a competitor watermark.
Which means the content you worked so hard to create doesn't gain the traction it deserves. Which in turn means, you either have to natively upload your short form video content to each network which can take A LOT of time or…
You can use Repurpose.io to streamline your process seamlessly.
Repurpose.io allows you to capture your short form video content from a social network and push it out to the rest of your accounts with no watermark and without having to upload multiple times.
You can even schedule your content to be published automatically at a later date and time.
Repurpose.io's workflows make distributing your short form video content across multiple social media networks (even Pinterest, LinkedIn, Twitter and Facebook) effortless.
Simply put, it has become one of the most important tools we use for our own content distribution and integral to the processes we recommend to Social Media Pro students and in our communities.
In fact, I'd say Repurpose.io is essential to truly scale your short form video content production and distribution.
Scaling Short Form Video Content as a Social Media Manager
If you're a freelance Social Media Manager or agency owner who is "already" or "beginning to" offer short form video content as a service in your client packages, you have to check out Repurpose.io as a tool to streamline your distribution process.
There are many steps to take for a smooth execution, but with all of these pieces in place you're set up and ready for success!
Next Steps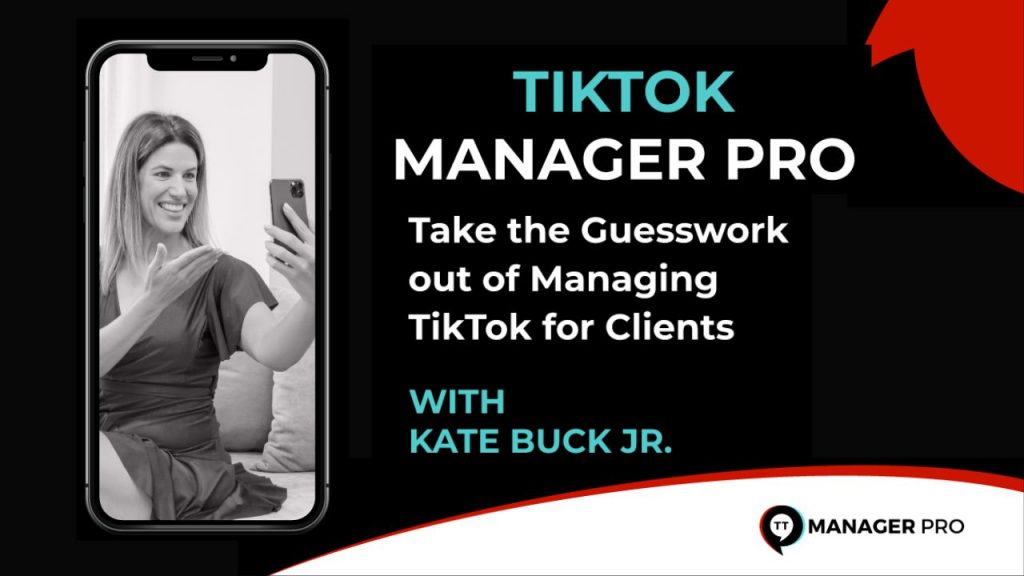 Everyone is talking about short form content but NO ONE is teaching how to manage multiple platforms for multiple clients.
That is about to change.
Kate and her team have created a program called TikTok Manager Pro where they have been perfecting strategies for:
Planning and topic creation for clients
Systematizing video content transfers between client and social media manager
Streamlining YOUR content distribution tasks … to help you get the most results WITHOUT having to upload natively to each platform
Here's what's included ….
Bite-sized, easy-to-follow training videos delivered by Kate Buck Jr.
Step-by-step process for creating a robust TikTok content plan
Downloadable spreadsheet for your data-focused plan
Method for streamlining your content distribution tasks without having to upload natively one-by-one-by-one.
---
More About Kate Buck Jr. and Social Media Pro
Kate Buck Jr. is the founder of the Social Media Managers group and CEO of Social Media Pro. Her online career began in 2006 and since then she has built an in-demand agency, consulted with top global brands, and spoken on stages worldwide, including SXSWi and Traffic & Conversion Summit.
In 2010, she launched her first online course–now known as Social Media Manager Pro. Kate has trained over 35,000 social media managers and many of her students have gone on to start their own agencies, become Influencers, and work at major brands like Facebook/Meta.